Catiea's Story
One of our watchmen died on September 24, 1996. His lovely daughter had had life pretty good up to that point. She was beautiful, healthy and going to school. Without papa's money, no school and where would food come from?
The Altrusa Club of Saginaw, Michigan came to her rescue. We took care of her until November 24 of 1996 when their first annual support check came to cover her tuition and food.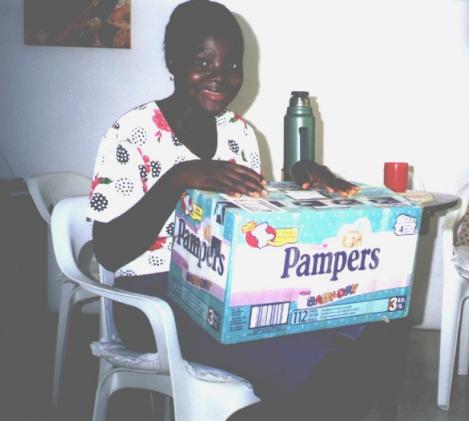 This photo shows her now just turned 16 years old, and the box in her lap is her birthday gifts from the ladies of Altrusa. The birthday gifts included new dresses, new shoes, shampoo, soap, nail polish and other personal grooming items. Catiea is 5' 5" tall now but still has the beautiful smile that won the hearts of these generous supportive ladies.
Cathiea graduated from high school and decided to go on to secretarial school. The Altrusa of Saginaw sent the money for glasses that made it possible for her to continue her education and in honor of her father For Haiti with Love and Altrusa are paying her tuition. She also works part time at an orphanage helping with the children before school. She graduated is 2009 from secretarial training and we are trusting her instincts to get a job with this field.