40th Anniversary Cargo Truck Project
Sitting in British Columbia in northern Canada was a couple selling their home and praying about how they could help missions with the proceeds.
Mission Network News carried the story of the need for a truck in Haiti...
So the God things happens...
Couple in Canada hears Mission Network News on the radio out of Michigan, sharing a story about a Florida based mission needing a truck in the north of Haiti - and they send the balance needed. God is good!
Well, you all know that our prayers were answered and we now have taken delivery of our 40th anniversary truck, and here it is!
Of course, as with anything, we now have to re-pave that driveway where it is parked. It was only designed for foot traffic, not the weight of the truck. Good thing we have lots of experience pouring concrete!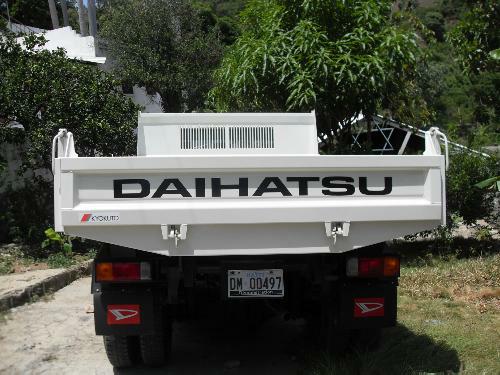 Dental Team
For a number of years Dr. John Barnett of Seminole was going to Haiti annually. On this particular trip it was with Dr. Dale Bax who was then from Ft. Myers. John is the one with the white head band, the lady in the front is Mary Alice Pickett, an elementary teacher at Tarpon Springs -- who the DeHarts have known since living in Indiana.
The second photo is the last night for this team in Terrier Rouge and the village gave us a big dinner to thank us. Left to right: Mary Alice, Eva and Don, the Haitian pastor host, and Linda Gardner, Eva's sister. She has been to Haiti three times, twice with For Haiti with Love, the first trip with her Indiana church.
(727) 938-3245
For HAITI With Love
P.O. Box 1017
Palm Harbor, FL 34682-1017
Cargo: 4767 Simcoe Street
Palm Harbor, Florida 34683-1311
Fax (727) 942-6945

Solar Ovens
Rotary International and Feed My Starving Children teamed up with a distribution of solar ovens with a pallet of food. We were privileged to be a part of that program and made the distribution of solar ovens in Haiti. They cooked very fast compared to previous ovens and were a tremendous success... while people were watching. However, as soon as no one was looking, they were put away and the folks went back to charcoal. Apparently they work well in the flatlands, but in the mountains it takes too much time moving them around to keep them in the sun... people are off trying to find food and a living, they won't take the time to move solar ovens to keep them in the sun. Good idea that didn't work in the mountains.
(727) 938-3245
For HAITI With Love
P.O. Box 1017
Palm Harbor, FL 34682-1017
Cargo: 4767 Simcoe Street
Palm Harbor, Florida 34683-1311
Fax (727) 942-6945

Rotary Water Project
For Haiti with Love, working with the Cap Haitien Rotary and Dick Breske of Rotary District 6950 of West Central Florida worked on a major matching funds project with Rotary International.
This trailer held a 400KW generator that was completely reconditioned and ready to serve at the well field in Cap Haitien to provide the electricity to pump water to the city. Mr. Breske worked with the Rotary units on funding while Don DeHart of For Haiti with Love coordinated details with the Cap Haitien Rotary and the wharf to make this project a success.
The container was met by truck and pulled to the well field site where it was jacked up, wheels removed and the entire unit lowered to the ground as permanent housing for the massive generator inside. It took a long time and a lot of money, but the generator is still working and this project was in 1992.

The Trailer
(727) 938-3245
For HAITI With Love
P.O. Box 1017
Palm Harbor, FL 34682-1017
Cargo: 4767 Simcoe Street
Palm Harbor, Florida 34683-1311
Fax (727) 942-6945

BelAir Road Project
One of the major successes of 1998 was the starting, building and completion of the road up the mountain in BelAir (a part of Cap Haitien) in the North of Haiti.
It all started when one of the people living on the mountain came to For Haiti with Love's headquarters to discuss the fact that the people of this mountain area above Cap Haitien really wanted to build a road to replace the muddy, steep ravine they used as a pathway down the mountain.
Since Don was a road builder "in his other life" (phrase he uses for his days in the capitalistic world, before Haiti full time) he was kind of excited about this project. Knowing there would be no bulldozers, no pavers, and only unskilled laborers added to the challenge. They got the measuring done, managed to clear only sacrificing one tree and even made a turn around pad at the top.
It was a steep, dangerous and difficult project, which made the success of completion only sweeter. The people can now reach their homes on pavement, vehicles can take the sick to town, where before they relied on bringing them down the mountain on a door -- most of them not making it.
There is even a daily Tap Tap (pickup truck colorfully painted and fixed with seats in the back) for transportation for the market ladies to get down to the city to work in the mornings and back home in the evenings
Click Here to see pictures
BelAir Road Project
(727) 938-3245
For HAITI With Love
P.O. Box 1017
Palm Harbor, FL 34682-1017
Cargo: 4767 Simcoe Street
Palm Harbor, Florida 34683-1311
Fax (727) 942-6945