DONALD DOUGLAS DeHART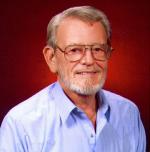 1935—2006
Many of you have undoubtedly read the story of the "dash" that span of time between our birth year and our death that normally appears on a stone at our grave site. If not click here to read the story The Dash
Well Don DeHart certainly filled his dash with love, caring, sharing… he spent a lifetime striving to walk in Jesus footsteps, following Paul's example of providing for himself while doing the Lord's work for the poor of Haiti.
When he first realized that he wasn't going to win this final battle with cancer (renal, totally unrelated to the cancer that took his voice in February of 2005)… he came to me in the living room and said "I am so sorry for your loss." When I asked what he meant he said "of your husband." Roseline and I both reminded him he was my husband and we still had him, he looked sad and said, "but I am suffering so." He then sat down and never mentioned it again except in one further reference, "it wasn't supposed to be this way, you know." This time he was referring to my caring for him in ways he could no longer handle for himself.
I have heard many rumors floating around about what took Don—the SCC in his throat was addressed and was gone… no medical personnel at Helen Ellis or Moffitt Cancer Center caught what was going on with the renal cancer until it was too late, in spite of his continuing complaint about back and leg pain.
Don was a driven man, one who wanted never to put off until tomorrow what he could do today. Never even put off until later what he could do now. He always had a list of things needed for Haiti—someone who needed a special medication, someone else who wanted a watch, a radio… he knew the value to them of something small, something we would consider insignificant—but when you have nothing and someone helps you as Don was always doing—he was extending the hand of his loving God to those in need that they might experience God's caring as well.

IT IS YOUR TURN NOW…
Roseline and I made the promise to Don that we will do our very best to continue For Haiti with Love, Inc. in such a way as to Glorify God and Honor Don… but we all know that Roseline and I can only do that if YOU continue funding For Haiti with Love—so this burden is up to you and we are praying God touches your hearts to help us Honor Don to the Glory of God by continuing to help the poor of Haiti.

MEMORIAL SERVICE
If you didn't get the opportunity to join us, you may experience the Memorial Service of April 24, 2006 with us by Clicking Here.
There is a brief Memorial there and the "click" to take you to the Memorial Service held at the First Presbyterian Church of Dunedin, Florida where we have held the Christmas in August for the past few years. At the top of the home page for the website you will first see a brief memorial and beside the photo within the article, a link to the Memorial Page. There you will see photos of the singer and speakers as they shared about their individual experience with Don DeHart. It was awesome, each person coming through the receiving line said they felt they learned so much more about Don through that sharing.

TUESDAY
Some of you were not notified—we contacted a lot of people but didn't get to all. Some intentionally were not contacted because of their close ties to Haiti—we wanted Roseline to be able to tell the staff in person. God blessed those efforts.
They knew… each had had a dream where Don visited them, talked about their jobs for God with the poor of Haiti, asked them to continue doing their job to the best of their abilities to Glorify God, they also want to honor Don. One of the girls is wearing black with Roseline, she too feels she lost her father on 4/15/2006.
Linda Cotin Doralus visited from Orlando, Wilbur called from Haiti and Wendy, Linda's brother e-mailed from Port au Prince—these are some of our "success" stories, calling to pay their respects and assure us that they KNOW they would not be successful today had it not been for Don and For Haiti with Love. Linda's brother Perard officiated the service in Haiti where Don's ashes in the keepsake will be encased in a small monument at the headquarters; the large urn will be with Eva's parents in Indiana. Roseline asked the staff for their preference on scattering or burying and this was the unanimous decision.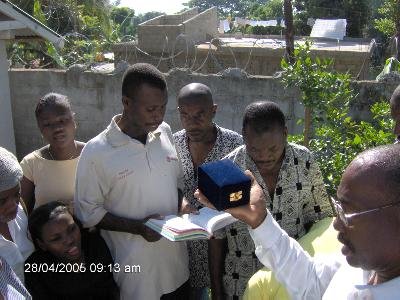 Friday morning started with the regular prayer session. Then waiting patients were treated in the clinic; after that the second service which was for Don took place at the headquarters. No dry eyes, they had all lost their "Poppa Don." Without exception he was a Dad to them, for some the only dad they had ever known, including Roseline.
Thank you, Don!

GIFTS in MEMORY OF DON DeHART
Ann T Barnett
Ana L Berrios
Robert C. Bonbrake "Bob"
Bill Bradshaw and Cathy
Mike Braun
Jeanne and Roger Bryant
Patricia Budlong
Judy and Dick Bullock
Children of the Nations International Adoptions
Bill Coats
Annetta A. Coleman
Suzelle and Dr. Pierre Conze
Barbara Cox
Judie and Ralph Crume
Martha and Herb Donald
Linda and James Doralus
Tony and Jae Dyba
Shirley M Eggleston
Linda Gardner
Hazel Gass
Susan and Steve Geiger
Faith and Ellis Graves
June I Haller
Frances Harding
Bob Harvie
Karen and Mike Hone
Gladys Howie
Amelia Jean Jorgenson
Betsy Kenas
Mary Knox
Betsy & Terry Kuper Ben and Emily
Mary LaVoy
Bernice "Bunny" Lampe
Dennis and Michelle Larson
Barbara Leary
Margaret M Loy
Carolann M Lussier
Valarie Lutz
Mildred and Charles MacNamee
William M McKenna
Robert N Macomber
Shirley Male
Theresa Mangas
Blanche Marshall
Marilyn Mason
R C Mooers
Joyce E Morgan
Priscilla Morrison
Audre and Robert Mossberg
Sally O'Brien
Marian Palmer
Peggy Perschbacher
Dorothy and Walter Peters
John A. Pollock
Bob & Shirley Prue
Lorraine Rabiger
Lillian Riis
Edna Robinson
Jean and Bill Rodgers
S. Dorothy Russell
Caroline Salsbury
Flo and Otto Schwanemann
Becky and Bruce Teter
Gayle E Tomacari
Roxanne & Carl Trent
Jim VanValkenburg & Heidi
Doug, Sandy, Adam & Amber Veurink
Ms. Faith Williams
Dorothy A Wilson
Jack Youngs and Bess DeBeck
The Zimmermans